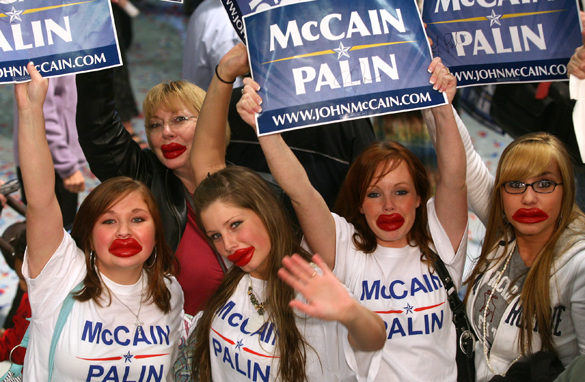 There's plenty of chatter out there that Obama's
press conference
yesterday, during which he said to McCain, the media and the rest of the country, "Enough!" wasn't, well, enough. People think he should be doing more and that every moment he doesn't attack this ridiculousness head on, he loses.
Every time I heard that I wondered what more he is supposed to do. He has the will of the country on his side, and he should continue to talk about issues that matter to people.
Maybe there's a way to do both. Maybe he can blast McCain-Palin for their petty politics while simultaneously explaining that their policies are wrong for America. And even better, I think he can send out surrogates to do it for him. He should send out an army of elected women from around the country to put an end to this nonsense. Jennifer Granholm, Dianne Feinstein, Kathleen Sebelius, Janet Napolitano, Christine Gregoire and, yes, Hillary Clinton should be out there explaining to voters that Sarah Palin is anti-women.
Their message is simple. They have all worked for decades for causes that are important to women. Palin has not. To the contrary, Palin
opposes
abortion, even in the instance of rape and thinks
Roe v. Wade
should be overturned (as opposed to leaving the decisions to the states, which many conservatives support). She is
against
equal pay for equal work. And when she was the mayor of Wasilla, her town had a law that charged rape victims between $500 and $1,200 "for the costs of the forensic medical examinations used to gather evidence,"
according
to
USA Today
.
Polls out this week show a rise for McCain on the backs of women. White women supported Obama, 50-42 in an ABC/
Washington Post
poll
before the Republican Convention. Now, McCain is ahead in that group, 53-41. My hunch is that result is based solely on the lipstick. If they knew about her policies on issues pertaining to women, those numbers would move back in Obama's favor.